School Fun Run Fundraiser

Keep more of your money raised than other School Fun Run companies ... online leader boards, custom website,
our full support from start to finish. We are the Fun Run specialists in NZ

Fun Runs | Colour Runs | Mud Runs | Obstacle Runs ... you name it - Raise It can help
School Fun Run Online Fundraiser

Keep more of your money raised than other School Fun Run companies ... online leader boards, custom website,
our full support from start to finish. We are the Fun Run school fundraising specialists in NZ

Fun Runs | Colour Runs | Mud Runs | Obstacle Runs ... you name it - Raise It can help with your school fundraising

"We were thrilled with the outcome raising $35,000 for our school of which this company only takes a nominal fee, meaning our students get more of the direct benefit to them! I would highly recommend, they are fantastic!"
We don't just do school fun runs - find our about our other great online school fundraising ideas and campaigns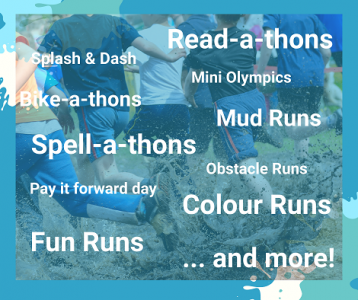 Fun Runs - Colour Runs - Bike-a-thon - Read-a-thon - Spell-a-thon - Splash and Dash - Mud Runs ....
No upfront costs and you receive 90% of your total funds raised for your School Fun Run*
Our school fun runs or colour runs are one of the easiest fundraisers you can run for your school fundraising efforts. Kids taking part in a Raise It school fun run or school colour run have been know to call it the "best day ever!"
How do we run a School Fun Run to help with our school fundraising efforts?
Running a school fun run or colour run with Raise It is easy. We guide you through the entire process from planning your fun run to building your fun run website and then launching the school fundraising event to your school. We build you a custom school fun run website and support that website for you becoming your IT Help desk for your event. We create your custom school fundraising "why" message and all content required to send home with your students explaining how your school fun run fundraiser will work. We provide all guides on how to maximise your school fun run outcome and we make sure you keep as much money raised as possible. Our fees at 10% is school fun run industry leading – our program is designed to raise maximum $$ and keep maximum $$. Find out more about how it works and makes sure you contact us for an info pack explaining how our Fun Run and other "Get Active" events programs work.