Spot Prize Pack promotion
Sign up for a "Get Active" or A-thon event with Raise It Fundraising and we will kick start your fundraising incentives with one of our spot prize packs. The Spot Prize Pack includes:
2 x Premier Prizes
20 x Spot Prizes
REMEMBER: All Raise It Fundraisers have NO UPFRONT COSTS and NO CANCELLATION FEES if your situation changes.
You don't have to know the exact details of your fundraiser – just leave your dates blank on the sign up form.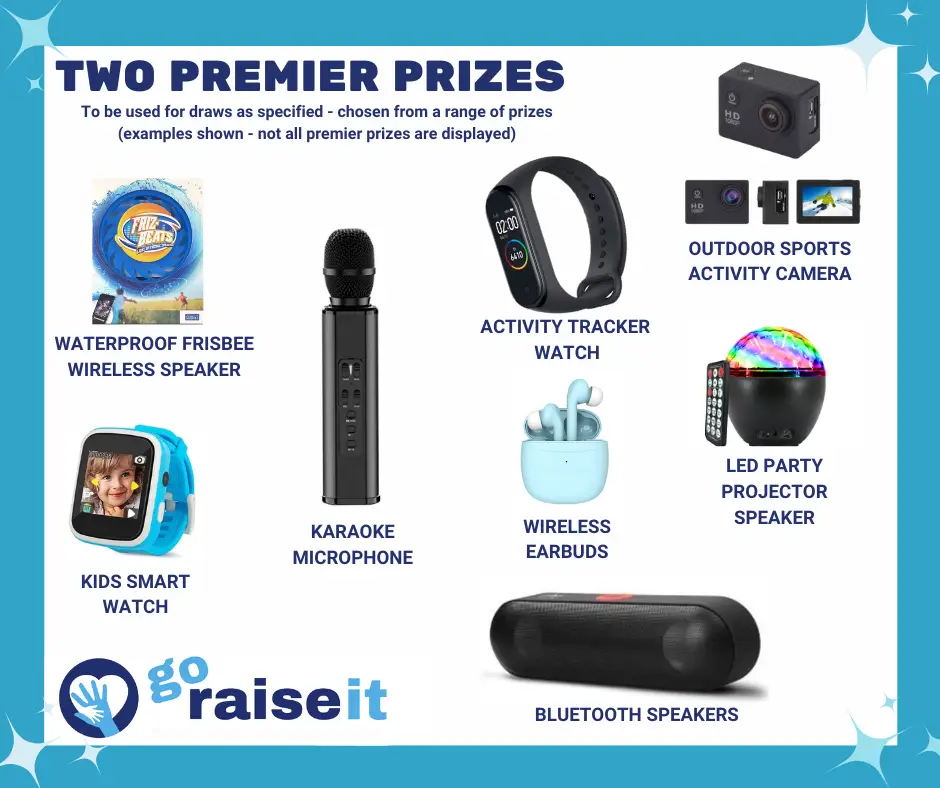 Terms and Conditions of Promotion
1. This promotion is available to all schools signing up for a full school "Get Active" or A-thon event. The event must be aimed at fundraising for the whole school's benefit not a portion of the school
2. This promotion is while stocks last – please contact us to reserve your pack.
3. The Premier Prizes must be used for spot prize draws to encourage participation in your fundraiser as specified by Raise It Fundraising. We will incorporate the information onto your Prizes page in your Fundraising Hub. You can specify the exact dates the draws will be done – ideally they should be done at an assembly.
4. The Spot Prizes should be used throughout your fundraising period prior to the event. They should be used as random giveaways to increase participation as detailed in the Raise It Incentives guide that your Campaign Manager will provide links to.
5. The Spot Prize pack will be made up of an assortment of items similar to those shown above and will be chosen by Raise It Fundraising. Not all Premier Prize options and Spot prize options are displayed. You will get an assortment chosen by the Raise It Team for your fundraiser.